THE ANNUAL DUCK RACE SCHEDULED FOR
BANK HOLIDAY MONDAY, MAY 25 2020 WAS POSTPONED DUE TO THE CORONAVIRUS SITUATION. WE WERE HOPING IT WOULD BE POSSIBLE TO RE-SCHEDULE LATER IN 2020 BUT THIS WAS NOT TO BE.
WE ARE HOPING THAT 2021 WILL IMPROVE THE SITUATION AND WE WILL BE ABLE TO SCHEDULE A DUCK RACE IN THE GORGE, POSSIBLE IN JULY (WATCH THIS SPACE!)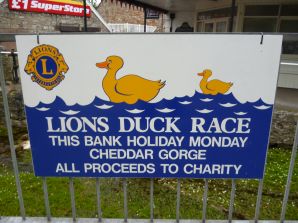 A HUGE THANK YOU TO ALL WHO HAVE SUPPORTED THIS EVENT OVER THE PAST YEARS.
The 28th Duck Race took place on
Bank Holiday Monday 27 May 2019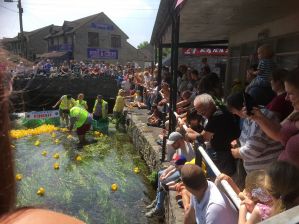 Great crowds - lazy ducks that eventually got to the finish line, but as usual loads of fun!