The Duck Race was Back for 2021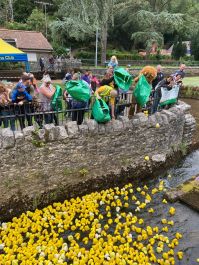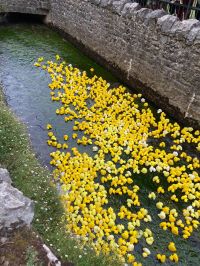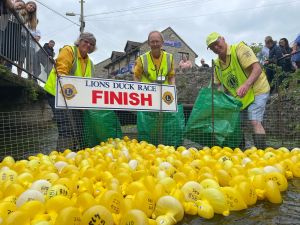 Great Crowds, Good Fun and Lazy Ducks
Every year large crowds gather to witness over 900 rubber ducks being thrown into the River Yeo in the heart of Cheddar Gorge to see which one will get to the finish line first. After a break for 2020 due to the coronavirus pandemic, we were delighted to be able to bring the duck race back for the August Bank Holiday Monday.
All proceeds for 2021 go to support Children's Hospice SW and the Lions Charity Fund.

The winning ducks were;
Race 1 - Winner = 186, 2nd Place = 306, 3rd Place = 109
Race 2 - Winner = 26, 2nd Place = 600, 3rd Place = 223
1st Prize: £100
2nd Prize: £30
3rd Prize: £20
Tickets were available via the following;
Via our online ticket payment site: Online Ticket Sales Currently Closed
Purchase in person from: Wyvern Coffee Co at Unit 6, Queens Row, The Cliffs, Cheddar (Opposite Jacob's Ladder)
Or contact us via email at: information@cheddarvalelions.org.uk .
Thank you to everyone the helped with ticket sales.
Registered Charitable Trust No: 1184204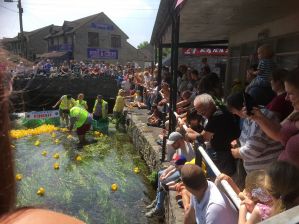 The 29th Duck Race took place on Bank Holiday Monday 30th August 2021