In 2022 the Duck Race will be held on Saturday 4th June
on the Jubilee Bank Holiday weekend
It will be taking place with 1,000 new ducks, courtesy of Hansons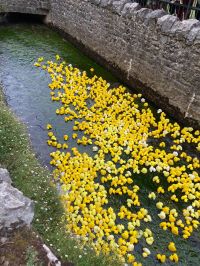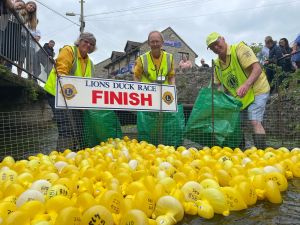 Great Crowds, Good Fun and Lazy Ducks
Every year large crowds gather to witness the ducks being thrown into the River Yeo in the heart of Cheddar Gorge to see which one will get to the finish line first.
Tickets are now on sale for the Jubilee Duck Race for 2022 taking place in Cheddar Gorge on Saturday 4th June which is also the Jubilee weekend.
Purchase tickets online here
Look out for our Lions ticket sellers in Cheddar Gorge and around the village in the coming weeks
There will be 2 races and winners of each race will receive:
1st Prize: £100
2nd Prize: £30
3rd Prize: £20
Get your tickets using the link above and good luck.
The Duck Race in 2021
After a break for 2020 due to the coronavirus pandemic, we were delighted to be able to bring the duck race back for the 2021 August Bank Holiday Monday.
All proceeds were donated to Children's Hospice SW and the Lions Charity Fund.

The winning ducks were;
Race 1 - Winner = 186, 2nd Place = 306, 3rd Place = 109
Race 2 - Winner = 26, 2nd Place = 600, 3rd Place = 223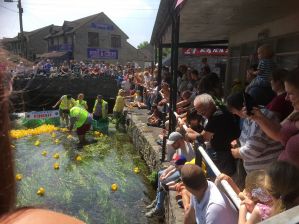 The 30th Duck Race will take place on Saturday 4 June 2022, part of the Jubilee weekend