The next Jumble Sale is due to take place in February 2021
depending upon the Covid-19 situation
CHEDDAR VALE LIONS CLUB LOVE TO JUMBLE

Hundreds of donated items were handed in at our last event and we are hoping for good support for our future sales. Items can be delivered to the Hall on the day (no electrical items please) after 12 noon, so that they can be sorted ready for the opening at 2pm. There is an entrance fee of 20p. Refreshments will be available.
Cheddar Vale Lions raise up to £400 at these events in aid of their charitable work in the local community. Please come along and support us.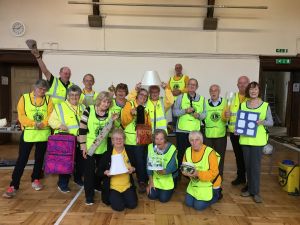 BRING YOUR OLD SPECTACLES ALONG AND SUPPORT OUR RECYCLING

'Lions throughout the world support those with little or no sight'
Go to our Community Section and click on Spectacles Recycling for more information.