YOUNG LEADERS IN SERVICE AWARD
Cheddar Vale Lions Club are delighted to announce that on 9 September they were able to present a Young Leaders in Service Silver Award to Team Leader of Weare Brownies, Isobel Ebdon, pictured below. A Silver Award is for 50 hours community service, although she did achieve 75 hours (Gold next time for 100!).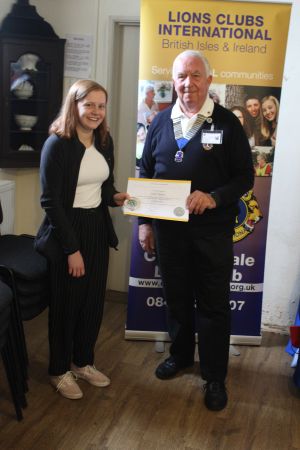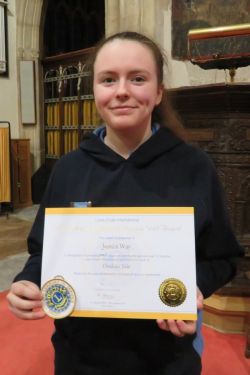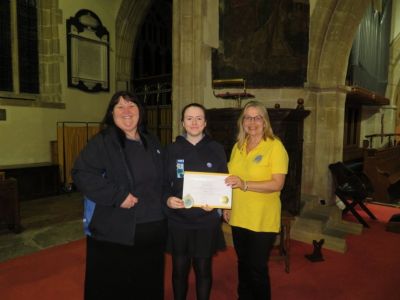 YLiS Gold Award for Cheddar Guide
Jessica Way was the first Cheddar Guide to achieve the Lions Young Leader in Service Award, which was presented to her during the Axbridge District Guide Service, held at Wedmore Church on Wednesday 27th March, 2019. Jessica had completed 206.5 hours of community service in the year, so was well deserving of her Gold YLiS Award. Jessica also received a Young Leader Award from the District Commissioner.
Friend of Cheddar Vale Lions, Bev Davies MJF, also received a well deserved award for 20 Years Service to the Girl Guide Association.
Is your son/daughter already serving their community - would you like him/her to be acknowledged for their work?
Full details of the project below:
This award recognises young people who provide significiant levels of service to their communities. There are two award levels:
The Silver Seal Award for young people who provide at least 50 hours of service to their community during a 12 month period.
The Gold Seal Award for those who provide at least 100 hours of service during a twelve month period.
Who is eligible:
Young people between the ages of 11 and 18 (school years 7 to 13) are eligible to participate in the Young Leaders in Service Awards.
How the Award Works:
Each young person will be provided with a booklet in which to log service activities. These activities are in a number of different categories - all the hours can be from the same activitiy or from a variety of services.
What types of service qualify:
Service to the elderly
Safety training (assisting younger children)
Service to children
Service to parents or family
Education
Environment
Service for the homeless/hungry
Public Health
Take a leaders' role with
Cadets - Boys' Brigade - St John - red Cross - Church - Yough Club - Community youth group or other similar group
Helping the Lions
If you feel you would like to take part in this worthwhile scheme please use the 'Contact Us' above