ANNOUNCEMENTS: Due to the Coronavirus situation, some of our events have had to be postponed to protect the public and our members, please visit the appropriate page to check. Donations to the Club towards their community work can be made using the CAF Donate link below:
The Duck Race was Back for 2021
A huge thank you to all who have supported the event this year, including all those that bought tickets, businesses that promoted the event and everyone that helped on the day.
1st Prize: £100
2nd Prize: £30
3rd Prize: £20
The duck races took place in Cheddar Gorge from 2pm on Bank Holiday Monday with great crowds, good fun and lazy ducks (as normal).
How About a Good Cuppa Tea?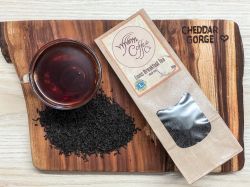 Wyvern Coffee Co and Cheddar Vale Lions Club have teamed up to bring you the Lions Breakfast Tea. This beautiful Ceylon tea has a malty and sweet finish with notes of slightly burnt caramel.
All profit from the Lions Breakfast Tea goes directly to the Cheddar Vale Lions to help fund their projects. With the support from such an amazing local business, the Club can look forward to carrying on with their Community Service projects.
Wyvern Coffee Co is situated in Cheddar Gorge opposite Jacob's Ladder, where they have just celebrated their first year anniversary. The "Lions Breakfast Tea" went on sale Friday 18th June and is available from their shop or can be ordered online at wyverncoffee.com.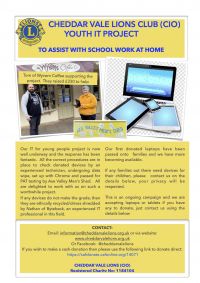 Youth IT Project
For full details of how to donate a laptop or tablet, or if your family is in need of a device for the children to do their schoolwork at home, please email information@cheddarvalelions.org.uk
or use the "CONTACT US" heading above.
Where we meet
Normal meetings will resume when possible
When we meet
2nd Thursday of the month at 7.30 pm
At present, meetings are being held online due to the pandemic situation

Normally we have social events on a regular basis, something for everyone.

Please visit our Membership page
to learn more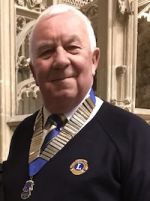 Please explore the rest of our website and our Photo Gallery
VISIT OUR GALLERY - CLICK HERE