The Jubilee Duck Race is happening on SATURDAY 4 June
Every year large crowds gather to witness the ducks being thrown into the River Yeo in the heart of Cheddar Gorge to see which one will get to the finish line first.
Tickets are now on sale for the Jubilee Duck Race for 2022 taking place in Cheddar Gorge on Saturday 4th June which is also the Jubilee weekend.
Purchase tickets online
by clicking here
, or email
information@cheddarvalelions.org.uk
Also, look out for our Lions ticket sellers in Cheddar Gorge and around the village in the coming weeks
There will be 2 races and winners of each race will receive:

1st Prize: £100, 2nd Prize: £30, 3rd Prize: £20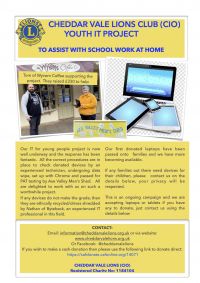 IT Project
For full details of how to donate a laptop or tablet, or if your family is in need of a device for the children to do their schoolwork at home, please email information@cheddarvalelions.org.uk or use the "CONTACT US" heading above.
We are also providing laptops to Ukrainian families
being hosted in the Cheddar area.
How About a Good Cuppa Tea?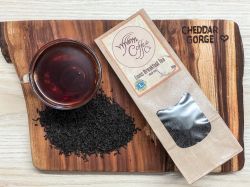 Wyvern Coffee Co and Cheddar Vale Lions Club have teamed up to bring you the Lions Breakfast Tea. This beautiful Ceylon tea has a malty and sweet finish with notes of slightly burnt caramel.
All profit from the Lions Breakfast Tea goes directly to the Cheddar Vale Lions to help fund their projects. With the support from such an amazing local business, the Club can look forward to carrying on with their Community Service projects.
Wyvern Coffee Co is situated in Cheddar Gorge opposite Jacob's Ladder, where they have just celebrated their first year anniversary. The "Lions Breakfast Tea" went on sale in June 2021 and is available from their shop or can be ordered online at wyverncoffee.com.
Where we meet
The Community Pavilion, Sharpham Road, Cheddar BS27 3DR
When we meet
2nd Thursday of the month at 7.30 pm
Normally we have social events on a regular basis, something for everyone.

Please visit our Membership page
to learn more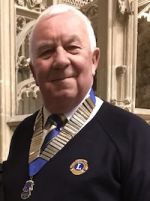 VISIT OUR GALLERY - CLICK HERE
Click on the links below to visit our

Multiple District Website - 105