Country Campout & Music Festival at Petruth Paddocks, Cheddar
DATES FOR 2023 - 19, 20 & 21 MAY
New Country Music Festival in Cheddar 2022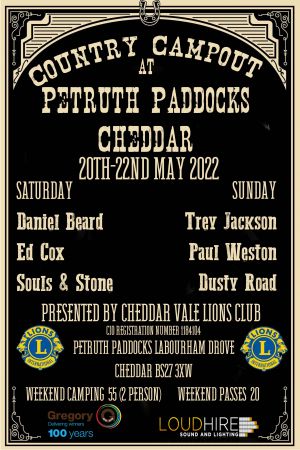 The above event proved a great success and we will be making it bigger and better for 2023. The event raises money for Cheddar Vale Lions Club charity fund going directly to support the work we do in the local community and further afield.
The 'Country Campout' will featured 6 country music artists across 2 days on 21st-22nd May 2022. Visitors joined us to camp arriving on the Friday and staying for 2 nights, departing on Sunday once the entertainment had finished.
Petruth Paddocks is a well equipped camp site in Cheddar with all the usual amenities available including toilets and showers. Food and drink stalls were available onsite.
This is an outdoor event with live entertainment on stage and a designated area for dancing (of all types) with seating area around. Bring your own camp chairs but please no very high-back chairs or gazebos that will block the view of others behind.
Tickets were available online which will be the same for 2023, please keep an eye out for details.
Alternatively, please email country@cheddarvalelions.org.uk for further information.

Please join us again in 2023 for a great weekend of live country music and dancing and help us to support our charitable causes.

Weekend Itinerary*
Friday
After 3pm: Arrival for those camping
Saturday
Gates open: 10am
12pm - 6pm: Live music
Sunday
Gates open: 10am
12pm - 6pm: Live music
Location
Petruth Paddocks, Labourham Drove, Cheddar, Somerset BS27 3XW
We would like to thank the following people and companies for their support:
DATES FOR 2023 - 19, 20 & 21 MAY sponsored by Cheddar Spirit Co.